While our legal action is challenging the virtual abolition of medical exemptions from vaccination that has occurred since 2016, what also frightening is that it is appearing increasingly likely that under the Covid-19 regime, nobody, I repeat "nobody" will be able to obtain a medical exemption from any Covid-19 jab. This is horrific in a democratic society, where none of the Covid-19 vaccines have yet received full TGA approval.
Despite Prime Minister Scott Morrison stating that vaccines are voluntary​​[1]​​, it is clear that the States are implementing draconian vaccine mandates linked to employment and attendance at certain premises. In this era of increasing vaccine mandates, provisions such as medical exemptions should be lenient to ensure that no individual is inadvertently disadvantaged.
No one will be able to get a Covid-19 medical exemption
Australian Immunisation Register Medical Exemption Form
Medical exemptions may be available under state laws, but these will vary from state to state. However, the Australian Immunisation Register (AIR) is a federally managed record of recording vaccines administered and medical exemptions can be certified on the AIR by an appropriately registered Medical Practitioner. Below shows an excerpt from the Australian Immunisation Register Medical Exemption form (IM011) ​[2]​ which only permits two very narrow reasons that will be accepted for a medical exemption.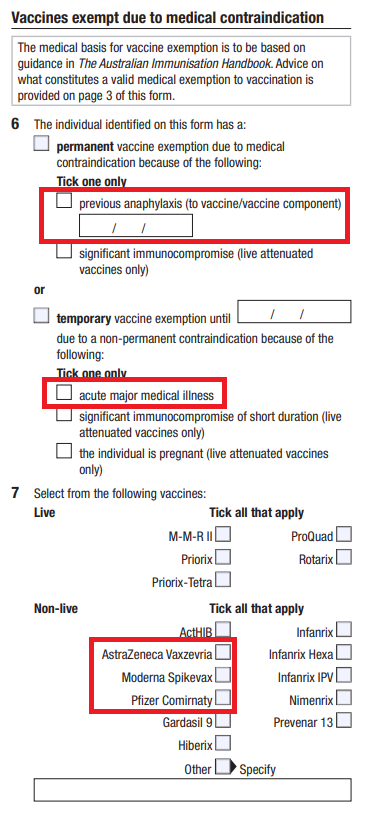 Since the current Covid-19 vaccines use very new technologies, we expect that it would be exceedingly rare for individuals to be aware of any allergies to the components in the current vaccines, so they would need to receive the first dose before any permanent medical exemption would likely be considered.
The Pfizer Comirnaty Product Information document​[3]​ states that the following are the components of this vaccine:
((4-hydroxybutyl)azanediyl)bis(hexane-6,1-diyl)bis(2-hexyldecanoate) (ALC-0315)
2-[(polyethylene glycol)-2000]-N,N-ditetradecylacetamide (ALC-0159)
Distearoylphosphatidylcholine (DSPC)
Cholesterol
Potassium chloride
Monobasic potassium phosphate
Sodium chloride
Dibasic sodium phosphate dihydrate
Sucrose
Water for injections
Therefore, this means that there will be practically zero possibility of anyone ever qualifying for a medical exemption from the first dose of any Covid-19 vaccination.
The four highlighted components are lipids which "encapsulate the mRNA in the form of a lipid nanoparticle". Two of these components "have not been commonly used in an authorised medicinal product"​[4]​. Therefore, very few individuals would be able to prove that they are anaphylatic to any of these vaccine components prior to receiving the first Covid-19 vaccine. Meanwhile, the only common excipients between Comirnaty and the AstraZeneca Vaxzevria jab is sodium chloride​[5]​ and water. Therefore this means that even if one could prove they were medically exempt from one brand of vaccine, it is likely the authorities will insist that they have an alternative brand of Covid-19 vaccine.
It may seem like there's a small window where one could get a temporary medical exemption due to acute major medical illness, however ATAGI have specified extremely narrow criteria under what are considered "acute major medical conditions". ​[6]​ Again, these criteria are extremely narrow, do not preclude you from receiving a different brand of vaccine and are limited to 6 months. Under this criteria even someone who has suffered Thrombosis with thrombocytopenia syndrome (TTS) following vaccination (a serious autoimmune reaction leading to blood clots and sometimes death) would not be medically exempt from other Covid-19 vaccinations.
This is why the legal action we are taking to try and get medical exemptions back is so important. There are very legitimate medical reasons for a medical practitioner and their patient to consider that vaccination might not be best for them.
Disclaimer: We have endevoured to ensure that this article has the most up to date and accurate information, but note that information relating to Covid-19 vaccinations is rapidly changing. In fact, we have had to edit this article multiple times while it was being drafted just to keep up to date with the changes. Therefore, please ensure you get the most up to date information.